Welcome to Sweeping The USA's day of the 25 Days of Christmas Giveaway!! She will be talking about her favorite and not so favorite commercials. They are giving away a $25 Amazon GC! Everyone loves Amazon!! I would love to win this one.
Enter HERE for your chance to win!!
Make sure you come back every day to enter for the next days giveaway!! Merry Christmas everyone!!!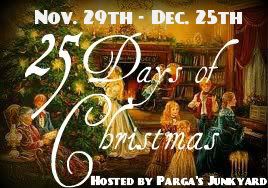 Enter to win a different prize each day, from Nov. 29th through Dec.24th, with the 25 Days of Christmas Blog-share Giveaways! Each day we will be highlighting a post from one of our 28 blog partners. Look for the link daily that will take you to the blog-share post of the day. By clicking on the day link you will find the Rafflecopter form to enter each of the 25 Days of Christmas Giveaways!