I remember when I was growing up how much homemade gifts meant to my mom. I don't know if you feel the same way, but I can understand where she was coming from. In fact, I know she still feels the same way. A gift made specifically for a loved one is made from the heart. Our children LOVE to make things for us all the time and we accept them with such enthusiasm, because we know they were made out of love.
It is so easy to go to the store and pick out gifts for those on our list and I realize it takes time to make a gift. But, I hope you will think about helping your children make this special gift for the special people in their lives. We are making these photo frames for both my mom and hubby's parents because I feel they make great gifts for grandparents. I know my mom will love to have the little ones make one of these for her because she still has the frame the older children made for her 11 years ago.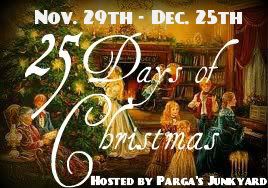 Please stop by Tots and Me to find out how to make this
Christmas Puzzle Frame
. While you're there enter to win today's giveaway!
Enter to win a different prize each day, from Nov. 29th through Dec.24th, with the 25 Days of Christmas Blogshare Giveaways! Each day we will be highlighting a post from one of our 28 blog partners. Look for the link daily that will take you to the blogshare post of the day. By clicking on the day link you will find the rafflecopter form to enter each of the 25 Days of Christmas Giveaways!